IN@Voice
Converged billing system for business monetization and development of digital ecosystems
IN@Voice is a well-established solution for long-term technological development, which allows you to focus on the implementation of business strategy in the context of the dynamic development of digital technologies.
Key features
IN@Voice is a customizable tool designed to produce new high-yield comprehensive services used in various business models (B2C/B2B/B2B2X. The Bercut solution provides the operators with multiple opportunities for integrated billing (including the new gen 5G networks), loyalty programs and performing scrupulous mutual settlements with partners.

Converged billing system provides automatic processing of data on a wide range of services provided and a charging system in prepaid and postpaid modes comprehensible for every subscriber, regardless of the set of services used (mobile or fixed-line communication, television, content services, etc. ).Thanks to In@Voice, the subscribers can choose from a range of unique offers based on their personal needs within a single billing period. In@Voice is not limited to a single currency or tax scheme, and the operator can flexibly manage the company's resources, creating a sets of services at the point of sale.

As part of the Convergent BSS delivery Bercut offers own provisioning module for integration with external components (HLR, MSC, AUC, etc.).
contract and PAYG billing (5G Ready)
multi-currency
individual billing plans
unified settlement period for all services
multi-balance
use of ESIM, DSA
loyalty programs
constructor of accounts
provisioning
roaming
base reporting
cloud operation is possible
OCS horizontal scalability
high fault tolerance (the solution is licensed for up to 60 million subscribers)
Business value
ARPU
increase, due to individual personalized offers
optimization
optimization of resources
revenue
sale of composite kits
TCO
best possible Total Cost of Ownership
How it works?
Converged billing system has a modular architecture, it integrates into the IT landscape of telecom operators easily and quickly, and can be installed remotely.
Using the unique features of In@Voice, the operator gets a universal tool to provide subscribers with a rich selection of communication services and create personalized offers. All the subscriber has to do is to choose the preferred set.
All the solutions are scalable and meet the needs of any CSP.
(from Tier 1 to Tier 4)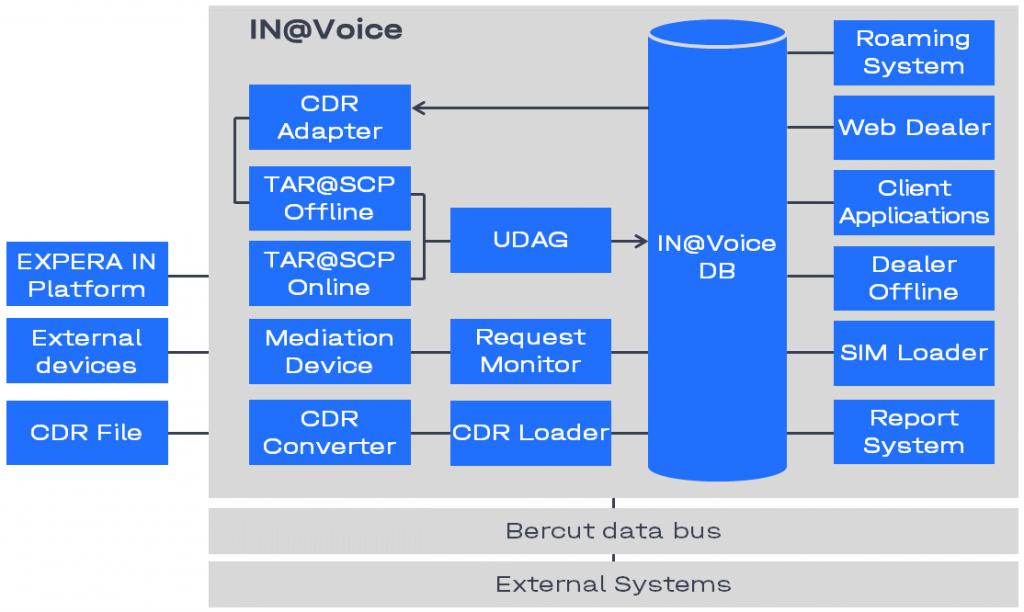 The support of the In@Voice provided by Bercut experts makes its use effective and unleashes its potential to make unique products in line with the technological perspective(5G/ IoT / Clouds/ M2M / Partnership Management / Event Management).
Bercut's business model based on partnership and flexible pricing help the operator to optimize the costs on implementing a convergent billing system and eliminate possible risks.
Usage scenarios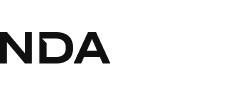 Long-lasting partnership
2+ M active subscriber base
billing system replacement
developing the ecosystem of partner services
VoLTE technology launch
transition to a new standard of digital communications
new sources of revenue
The history of a 21-year partnership between Bercut and a communication service provider operating in 4 regions of the Russian Federation.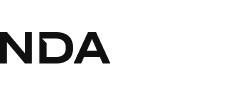 The story of a startup's development
570 000 subscribers
790 subscribers (during the holiday period)
10% transitions on MNP
the largest subscriber base in the assigned territory
In December 2015, Bercut partnered in launch of a mobile operator in a resort zone of one of the CIS countries.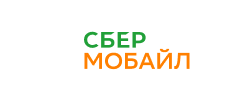 How Sber and Bercut created the most innovative MVNO
growth of revenue by 3.5 times
the Most Innovative MVNO at the MVNO Awards 2020
> 1 M subscribers
full MVNO
In September 2018, a new mobile virtual network operator was introduced to the Russian telecom market ― SberMobile by Sberbank. Two years later it was recognized as the Most Innovative MVNO at the MVNO Awards 2020. The operator was created by the largest Russian bank in close cooperation with Bercut, an international provider of solutions for CSPs.
Bercut has reached a new level of software quality
The company is celebrating its 25th anniversary with a technological achievement, providing Tele2 with an absolutely error-free implementation of a major release of the IN@Voice billing system. The success was a consistent result of an inclusive approach and work in partnership.
Bercut helps Tele2 create new products under other rules
Bercut remained in the shadow of Tele2 for a long time. The technological solutions delivered by the company to Tele2 have drastically changed the performance of that telecom giant. Making payments by a smartphone, retaining a mobile number after switch to another operator and selling unused traffic — all those services have been successfully implemented, also due to Bercut involvement as a BSS partner.