Branch Roaming Gateway
BRGW is an MVNO borderline signaling traffic management system in roaming
The system allows the telecom operator to use its own roaming agreements to provide services to subscribers of other MVNOs who are roaming.
Key features
Creating a cellular network from scratch is a time-consuming and expensive task. However, a large GSM operator (Broker) can use the equipment of a local telecom operator (Holder), providing services to both its own subscriber and MVNO operators.
The Branch Roaming Gateway (BRGW) system allows a large cellular company (Broker) to provide roaming services through a local mobile operator (Holder) in the visited guest service areas of the mobile network (third-party Visited PLMN). To do this, the Holder's subscribers use a SIM card with two IMSI codes.
possibility to register for MVNO subscribers staying in the roaming area and to provide them with communication services (including in 2G, 3G, LTE packet data transmission networks)
ability for MVNO subscribers who are outside the coverage area of the Home network to use Supplementary Services (forwarding, USSD-requests, etc.)
ensuring the sending of SM from MVNO subscribers to subscribers of international GSM operators
receiving and sending short messages (SM) to MVNO subscribers who are outside the coverage area of the home network
managing data about roaming MVNO subscribers from the home network (setting restrictions, etc.)
online-billing (CAP, Diameter)
controlling and setting restrictions for MVNO subscribers
Business value
optimization
optimization of business processes (from 30 days by TAP-files to online billing)
monetization
new sources of income: monetization due to roaming agreements
profit
enticing new MVNOs into cooperation
How it works?
The broker leases out IMSI numbers to the Holder. Subscribers of the Holder use a SIM-card with two IMSI codes:

The first code is used when the subscriber travels within the Home Network.
The second code is used when the subscriber moves outside the Home network.
The IMSI_2 code belongs to the Broker. A subscriber who travels outside the Holder's network is considered to belong to the Broker.
The Broker then leases IMSI numbers to one or more Holders to ensure that the subscriber is uniquely linked to a specific mobile network operator.
If the Subscriber of the Holder leaves the home network, (s)he is registered in the guest network using the IMSI_2. BRGW establishes a connection with the broker's MSC, all alarms and messages from the MAP level are sent to the broker's network. Next, message routing is performed depending on the network topology and BRGW location.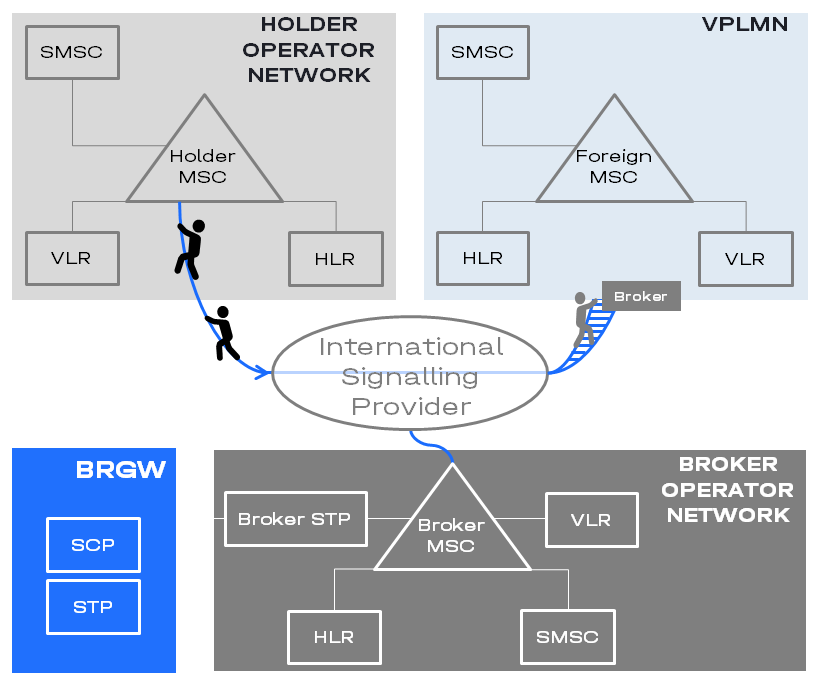 Bercut helps Tele2 create new products under other rules
Bercut remained in the shadow of Tele2 for a long time. The technological solutions delivered by the company to Tele2 have drastically changed the performance of that telecom giant. Making payments by a smartphone, retaining a mobile number after switch to another operator and selling unused traffic — all those services have been successfully implemented, also due to Bercut involvement as a BSS partner.