Hybrid Integration Platform
HIP is the basis for integrations, creating products and automating business processes
Key advantages:
The platform is actually an ecosystem of software products that allow solving problems of digital business transformation such as:


integrations
creation of new products and MVP
standardization of the IT landscape
automation of business processes

Support for various types of users
There are different levels for HIP users working with HIP components. Depending on the user's skills, different platform features may be available.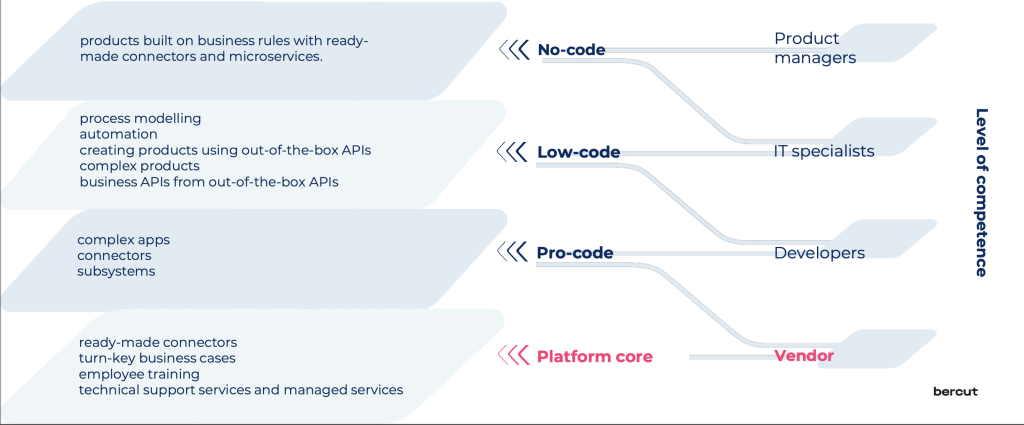 The competency diagram will help to correctly categorize and assign levels to the users.
customizable Web-interface and ready-to-use microservices for scripting
convenient drag-and-drop interface Service Creation Studio
creation of microservices aimed at solving specific problems
ready-to-use connectors for systems and technologies
ready-to-use subsystems
code generators for easy integration
Business value
profit
introducing innovations, new sources of income and expansion of the partners' ecosystems
efficiency
independent creation of products, testing hypotheses by launching MVP
optimization
reducing the amount of resources spent by reusing already created tools and integrations, minimizing dependence on the vendor
automation
automation of routines
How it works?
The building-blocks structure of HIP allows to support specific requirements and business tasks, combining the elements of the platform and their functionality:


BPM (Business Process Management) product creation and automation of business processes.
Event Management (Processing) easily builds a new business logic for processing events in real time.
RTSIB (Integration Bus) enables applications, data, and systems to interact with business logic.
API GW (integration gateway) supports various protocols, providing secure interaction with external systems and partners.
The Framework is a generous set of tools, capabilities and subsystems for creating additional modules (microservices) and integrating with open source products.
Message Broker provides real-time communication between systems using a subscription model.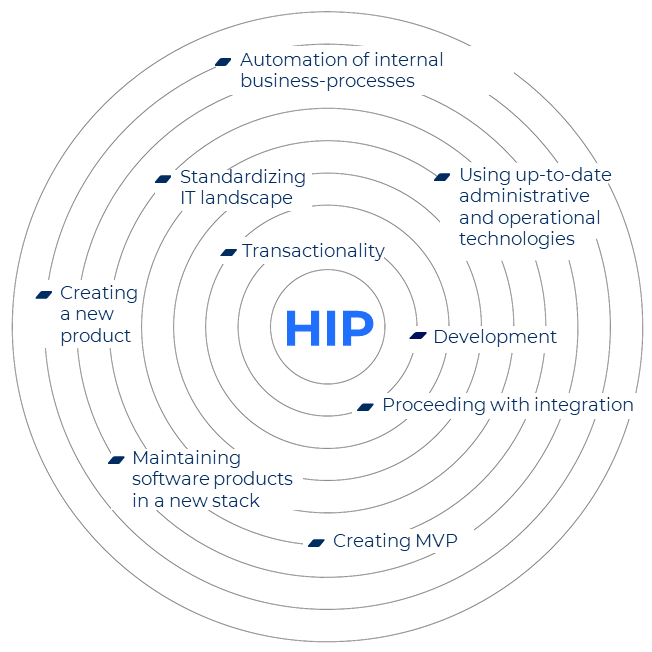 Use different approaches, methodologies, competencies, and tools to solve everyday and global challenges as part of your digital business transformation strategy.
Usage scenarios

Market by Tele2
2.5 M subscribers per month
internet traffic volume over 1 PB
> 50 M minutes and 400 K SMS were put up for sale
> 1 M lots
On September 25th, 2019, Tele2 and Bercut, the provider of Business Support Systems, announced the launch of a one-of-a-kind product Market based on the IN@Voice billing system. It is the first and the only online platform where subscribers can buy and sell minutes and gigabytes.
Bercut participates in the meetup "Automated Quality Control of the Code and Development Processes"
On September 30, 2021, Roman Vorobyov, Software Production and Services Support department manager at Bercut, took part in the meetup "Automated Quality Control of the Code and Development Processes".
Bercut helps Tele2 create new products under other rules
Bercut remained in the shadow of Tele2 for a long time. The technological solutions delivered by the company to Tele2 have drastically changed the performance of that telecom giant. Making payments by a smartphone, retaining a mobile number after switch to another operator and selling unused traffic — all those services have been successfully implemented, also due to Bercut involvement as a BSS partner.
Technological trends 2021. The role and prospects of telecom operators
Every year, Gartner, a global research and advisory firm, predicts major trends in the IT market for the coming years. Bercut closely monitors technology forecasts. The way that some of the trends have emerged in 2021, as announced at the Gartner IT Symposium/Xpo 2020 online conference, allows us to rethink the role and opportunities of telecom operators and service providers in the future.